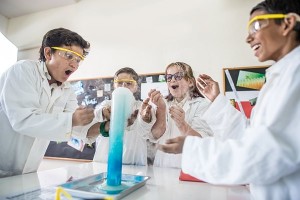 Imagine your child studying in an international secondary school, fully exposed to different students from all over the world. On campus, he will be able to expand his worldview and broaden his perspectives. As he will encounter and interact with diverse groups of people, he will gain a better understanding of other cultures.
Your child can enjoy all that the school has to offer, including its international curriculum. So what can you expect from an international secondary school curriculum or programme?
1. Challenging Academic Programs.
The curriculum offers subjects that are designed to prepare students for admission to colleges and universities worldwide. Not only will it make students highly desirable applicants, but will also turn them into more informed applicants.
Many international secondary schools implement a programme that is focused on the use of information technology and inquiry-based learning. One good example would be the British-based Cambridge International General Certificate of Secondary Education (IGCSE) Programme. Subjects offered under this programme include Art, English, Design and Technology, Mandarin, Mathematics, Music, Personal and Social Education, Science and Humanities, and Spanish. Notice that foreign languages are part of the curriculum. This is a clear message that international secondary school strongly emphasise the development of a bilingual foundation and bicultural community amongst students.
2. Student-Centric Education.
What's interesting with this type of curriculum is it promotes a personal approach to learning. Students are enabled to shape the curriculum by letting them choose a project work that is in line with their interests. This not only activates them in the learning process but also enhance their cognitive skills that they may use when they enter college.
A student-centric education is an effective way of deviating from the spoon-fed classroom type, thus teaching students how to become independent and learn with minimal supervision from their teacher. Also, it instils a balanced approach to learning, which means students become more active in school programmes, whether academic or non-academic. They are given the chance to participate in athletics, cultural activities, neighbourhood community programmes, and volunteering pursuits.
3. Lower Teacher-to-Student Ratio.
There's quality in numbers. When it comes to class size, some international secondary schools prefer to maintain a boutique size rather than the traditional classroom setting. Schools limit the number of students in order to provide individualised student attention that your child needs. As a result, students are more articulate, confident, and engaged.
In a 2001 study that was published in Economic Journal, it was found out that students who attended smaller classes in the early grades were more likely to take college entrance exams, especially among minority students. Several types of research furthermore highlighted the educational benefits of a small class size, better test scores and higher graduation rates.
4. World-Class Academic Programme.
Doors to top universities and colleges around the world are open to graduates of secondary international school. Studying here is your ultimate gate pass to explore the world and learn more about it. Most international schools partner with renowned academic institutions worldwide. Their graduates are either automatically admitted to these institutions or hold an academic edge over other applicants.
So why study in an international secondary school? Because a bright future is here.