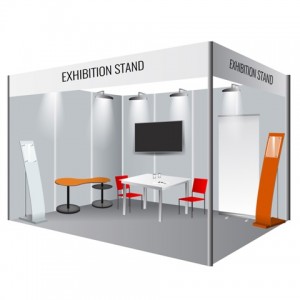 An exhibition is important because it allows companies and businesses to meet potential customers and reach their target audience. Trade show is a place where new connections are built. Various businesses in an exhibition have the same goal, which is to look for interested guests that they can convert into new customers and sales.
Do you know that one important factor to make an exhibit successful is the exhibition stand that they will use? Here are some reasons why exhibition stand is important in exhibitions:
It will represent your business.
It is not enough that it looks good on paper. You also have to make sure that you have the proper exhibition stand design that will let guests know what your business is all about. Be creative in designing your exhibition stand because it will leave an impression to the people in the event. Let them remember your company because of the exhibition stand and display you have. It will help if you will place your company's logo on your exhibition stand.
It will attract more potential clients.
One way to ensure that you can attract potential customers in exhibition events is to make an attractive exhibition stand. Create a unique, but right advertising and marketing strategy for your business. People love to see a one-of-a-kind presentation, so make this happen and create a head-turner exhibition stand. You need to make an exhibition stand that will stand out in the trade show.
It will create awareness of your company.
Exhibition stand will let people in the trade show experience your products and services. Guests will be aware of what kind of services you offer and let this appear in your stand. Be creative in informing people about who you are in the industry.
Traditional marketing is not dead. Exhibition is one way to promote your business; it is a traditional marketing that still works effectively. The use of exhibition stand is a part of conventional marketing and acts as an outdoor advertising. This way, you can reach a huge amount of audience that you can convert into customers.
These are just a few of the necessary things exhibitors need to know when they need to attend a trade show to make their exhibition a success. If you are an event organizer company in Singapore, these will greatly help you in assisting your clients and make their events successful. Knowing the advantages that you can get in creating a proper exhibition stand design that will perfectly suit your business is just one of the many things to consider in achieving a successful promotion of your company. Exhibitions are a great place to showcase who you are and gather more target clients, so make the best exhibit that you can offer to them.