I recently purchased a mirror-less camera and I wanted to try it out. Since the camera is smaller than DSLRs but have arguably the same image quality, I felt that it is the perfect camera to use whenever I go on trips.
Upon doing some research, such as reading various books and visiting websites like Fernloft, I settled on going to Malaysia. I decided on Malaysia because after doing some research, I found out that it is home to a rich mix of cultures (more subjects for my pictures) and is not considered to be an expensive country.
So I packed my camera and went to Kuala Lumpur (Malaysia's capital). I had a short trip of 3 days and 2 nights, but it was enough for me to capture a lot of the sights in Malaysia. Here are some of the highlights of my photography inspired trip:
Check out the Architecture:
When people think of Kuala Lumpur, Malaysia as a tourist spot, they would most probably be keeping the Petronas towers in Mind. These towers were considered as the world's tallest buildings from 1998 to 2004. According to Lonely Planet's Discover Malaysia and Singapore travel guide, these towers signify the city's meteoric rise from shanty town to space-age metropolis.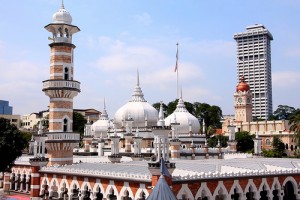 Aside from the towers, you should also visit Merdeka Square. Merdeka Square was the place where the country's independence was declared. In Merdeka Square, you would be able to see a 100m-high flagpole that is supposed to be the world's tallest. You can also see wide architecture variety such as the Sultan Abdul Samad Building with its Victorian, Moorish and Mogul inspired architecture and the Royal Selangor Club which is inspired by Tudor architecture.
Pay respects to religious landmarks:
The Lonely Planet's Discover Malaysia and Singapore travel guide raves about Kuala Lumpur's cultural diversity. Aside from the more commonly known ethnicities of Muslims and Chinese there are also Indian Migrants and British colonials who live in this country. This leads to me being able to see various types of places of worship in the area.
For starters, I decided to drop by Masjid Negara. It is a mosque near the edge of the Lake Gardens, and is supposed to be the main place of worship for the Malay Muslim population. You can also visit the Thean Hou Temple, where you can see various Taoist-Buddhist religious artifacts. If you want a Hindu inspired trip, then you can also visit the Sri Mahariamman temple, and be amazed by the colorful statues that honor Hindu gods. If looking for a richer experience, I suggest that you take some photographs at the Islamic Arts Museum Malaysia as it contains a great showcase of the origins of Islamic art.
Of course, you should always remember that these are places of worship and would have their own traditions and customs. It would be good to consult with locals or travel guides and sites such as Fernloft.com (http://www.fernloft.com/index.php/interesting-places-in-kuala-lumpur) to check their operating hours and see if it would be okay to enter and take images.
Shop and Shoot!
Malaysia is also known as a shopping haven. You can try to take pictures of the various malls that are strewn about the country. You can take pictures at the sprawling shopping complexes such as Pavillion KL or Suria KLCC. Both of these malls feature all in one shopping as you can go shop for clothes, books, and then eat at the stalls in their food courts.
Aside from the malls, the Lonely Planet suggests that you also get a taste of the night street markets in Chinatown and Little India. The street markets may not have the glitz and glamour of the malls but you would be able to get cheaper prices and be able to photograph the grittiness and organized chaos of haggling and trading.
Experience the street food:
Similar to other South East Asian countries, I find Malaysia to have a very satisfying experience when it comes to street food. You can go to Jalan Alor to get your fix. Jalan Alor is a long road in Kuala Lumpur with various types of Malaysian Street food. You can get durians, asam laksa and other known Malaysian dishes. You may want to take pictures of the crowd as well as the colorful dishes that are being prepared in the streets.
Aside from Jalan Alor, the various night markets in Chinatown and little India also come alive at night with various food items that would satisfy both your hunger and your need for good images!